Build Successful Jewelry Business with Help of Magento Website
"In 2016, more than 29 million people purchased jewelry on internet – daily basis."
"Worldwide, Jewelry business, by 2020, to reach about 20% buyers online
from 2% currently."
With stats like these, it is safe to say that while jewelry business has yet not adopted the online model, it will get matured sooner. That is, days are not away when many people will feel it comfortable to order jewelry from a website, without visiting a brick-and-mortar shop.
Therefore, competition is going to grow only. For store vendors.
Never worry, a website for jewelry business has equally become cost-effective with the increased momentum of an online shopping experience.
And just like internet-only e-commerce dealer, actual diamond store owners can also establish complement jewelry website by utilizing services like hire dedicated Magento developer to compete on the virtual world of web.
Today, there are website owners who are selling
pearls
diamonds
rings
necklaces
etc. with almost zero human efforts by publishing omni channel marketing solutions that gets inbound inquiries and completes also itself without they – owner needing to intervene at all.
You can do it too. By applying same tactics to draw huge inbound traffic.
So, how will you plan and create an online selling machine? Let's delve deeper!
Diamonds need care, same is true for website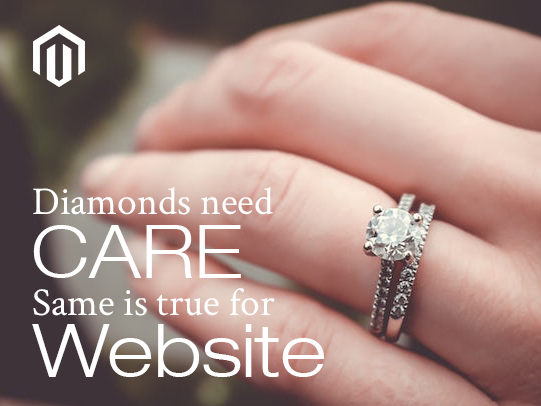 Sellers have to take
utmost care and
precision
when presenting diamonds in front of eyes of customers.
If you create an appealing website with pixel-perfect images, you will never run out of buyers.
Hosting a highly sought after jewelry website has a long list of challenges, but there are key areas you can focus on unmatch success.
1.Use Magento or Similar Reputed E-commerce Framework
A significant part of web success is drawn by a decision of e-commerce framework that will be used for designing jewelry site.
The framework will be responsible for organized presentation of your products and overall brand building.
E-commerce framework should replicate
ambiance
colors &
shopping experience
that creates a trust for existing as well as new customers.
Moreover, a website should contain versatile pages. That is, web pages should contain exaggerated filters so that prospect can easily source according to personal taste and expense.
Magento offers all above advantages.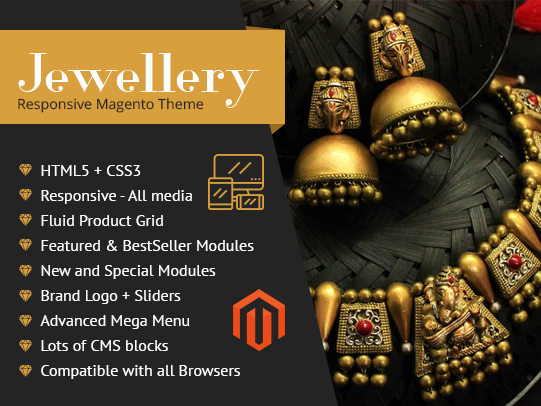 On top of that, it is distinctly favored in comparison with similar products because
Its community edition is 100% free to use.
It offers modular architecture.
It is scalable.
It is easy to find Magento website development company or expert Magento developers in any part of the world. So, cheap labour and website improvement goes hurdle-free.
Time-proven, today nearly 24.8% of all ecommerce websites are powered by Magento alone.
2. Differentiate Between Right and Wrong Website Maker
It is ok to know that Magento is versatile.
But what about skills, rates and time-bound delivery of selected service provider.
Ask questions like below when buying Jewelry website.
Will software professionals of a company you select be able to deliver features like
3D Jewelry Viewer
Advanced Diamond Search based on GIA, AGS, IGI, EGL certifications
Gridview of data points that displays color, polish, carat, clarity, depth etc.
New Arrivals section
Featured Videos
Live Gold Price Integration
Connected CRM
Faster Loading Site & Webpages
Assisted Mobile App
Sales Tax Calculator
Jewelry Personalization
RAPNET API Integration for fair trade of diamonds
Live Chat
Login, WishList & Shopping cart
-Social Media Integration
etc.
Any one or more facilities outlined above can make or break hundreds of deals every month. Therefore, approach a reliable Magento solutions provider, probably certified consultants.
3. Digital Marketing & SEO
Pick high search volume keywords depending on your product line. And add them in website content so that your URL is printed on the first page of Google.
Social Media is a very useful selling tool to market better by sharing posts in groups. If you are a standard jewelry vendor, writing prices in every post should not bother you. It shall without a doubt attract serious buyers.
Magento, in specific, has built-in SEO options available. You can exercise over those settings after logging in to its admin panel.
4. Imitate from Competitor Sites
When your website is in nascent stages of development, learn ideas from websites of analogous competitors.
Although you cannot enter their shop, you can certainly pierce to their web store. Although most business owners get conscious to know about rival treads, only sheer number of them take action after observing. Don't get idle and inform your Magento developers to create the same section on your website.
Feet of MagentoGuys in Jewelry E-commerce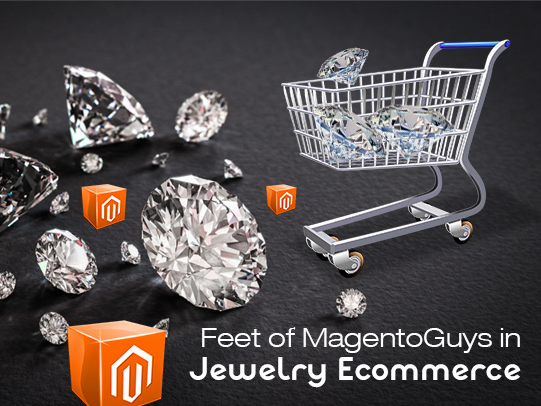 Software engineering veterans at MagentoGuys have crafted a couple of ornament websites to date.
We cater no-nonsense online presence for Jewelry businesses of all sizes and shapes. Our work results in getting coins back spent on developing a website.
We are considered an ace in the arena of Magento 2 customizers.
If you are seeking a long time partner to maintain jewelry website that does not incur much recurring costs, come to us. We have budget-bound schemes.
Why MagentoGuys?
Streamlined and Quality-Driven Process
24×7 availability
Modern technology geared Responsive, Flat and Mobile-friendly design
Existing huge and satisfied customer base
Delivery on time and within budget
1800+ successful ecommerce projects already completed
Basic SEO free for all sites
"It is not about bits, bytes and protocols, but profits, losses and margins."