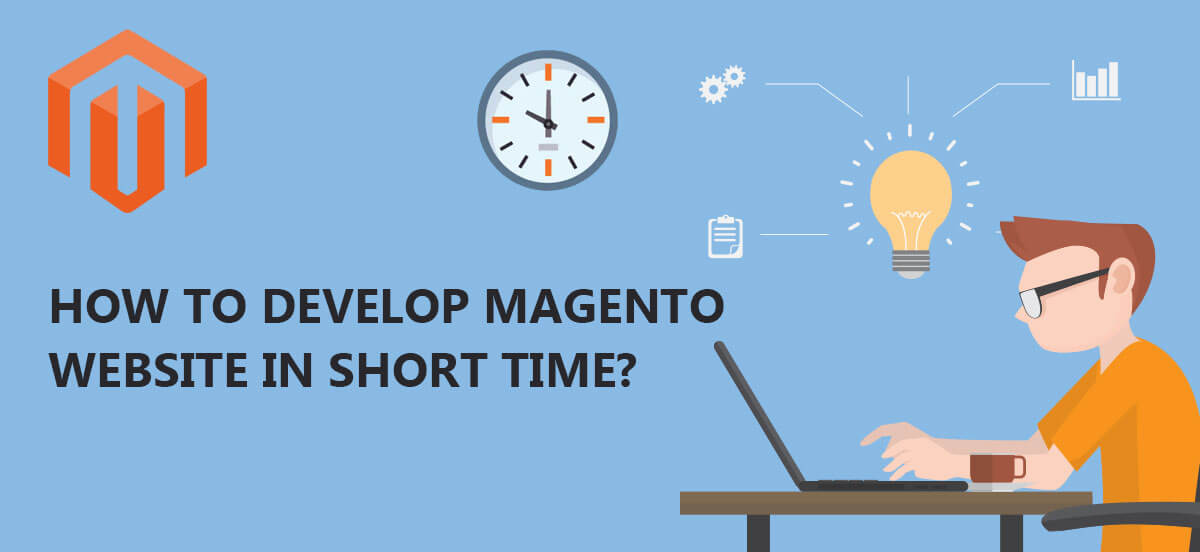 How to Create Magento Ecommerce Store in Just 10 Days?
Creating a completely new Magento eCommerce store in just 10 days sounds challenging isn't? But, it is possible as you can easily beat all the challenges by following a step by step process that will lead you through building your new eCommerce store on Magento platform within 10 days.
If you are Magento Development Companyand get request from your clients that they want to build and launch their Magento eCommerce store in just 10 days then don't panic as it is possible.
How to Develop Magento Website in Short Time?
Initial requirements
With the 10 days deadline to follow you may feel that it is not actually possible to create a powerful eCommerce store with all features and other necessary aspects that are much needed for any end product. In order to make it transparent and organized the Magento developers should identify the initial requirements to start with. You can focus on the following
Easy to navigate store with unique content
Include menu items like home, contact, about us etc
Product catalog with all main items
Shopping cart with easy checkout feature
Reliable payment gateway along with integration of tax software
Admin feature to control orders, products, content and customers
Email integration to automate messages
When you have less time ask your Magento developers team to dedicate time to the project to create and execute plans and let the project get going to meet the strict deadlines. The deadlines that your team needs to meet would comprise of
Creation of Cloud instance
Website development
Design assistance
Testing
Fixing Bugs & UAT
Approvals & sign off
Installation
Post-production assistance
In order to build an eCommerce store from the beginning in just 10 days time you need to make sure that each task is completed in time.
Plant it well
Once you create a final plan, just call up a meeting with your Magento developers to bring in to knowledge of the entire team about the plan. You need to discuss with your team about the expectations of the team and what is expected from the team in return.
Discuss about the website design and static content and discuss about the details regarding development & functionality because the team had planned in the initial stages. Approve the development & functionality plan.
Once the plan is approved, plan the number of hours that would be given to each team members all through the project. Also plan for the time allotted for training o admin panel in days to come.
Create a sample
Create 2 cloud staging platforms after co-ordination with the cloud service teams for Magento in coordination with Magento cloud services. Ask the client to approve any of the themes.
Theme Application
At this stage your store will gain momentum and now that you have build Magento functionality, you now need to apply the chosen theme. After the theme application start with customization for menu options, product descriptions, banners etc.
Enable functionality
Now the interface you created will be fully functional with all active links and perfect end to end eCommerce features. Here, you need to test the website and also upload content and check visual aspects that would be present in the theme. Update the names on different servers and then create the training tutorial for admin interface for your client.
Change in theme
In case your client requests for a change in theme, you should be in a position to respond the request. Again with the new theme you will have to spend time in development, testing and integrating functionalities.
Testing and Fixes for bugs
Once your eCommerce site is ready with all functionalities integrated successfully, your client may test it for different functions like for admin user or from as a customer while placing an order. The process of testing the site will help you know about the bugs and fix them there and then before the site goes live.
Fixes & review
Certainly the review process followed by fixes continues as you may keep finding small errors that need some minor fixes to improve the performance and functionality of the store. Also, you need to train the employees of your client and answer their queries so that they can manage the store on their own before the site goes live.
Time for the site to go live
Once the process of fixes is over, it is time to launch the site. So, your hard work pays off when the site goes live without any errors.
Well, building a Magento eCommerce site in 10 days is possible, but you should let your client know that if the process may take a day or 2 extra as it is always better to check the website twice for any bugs and errors before the site goes live. With a little extra time devoted to work on the issues, it will be a smooth launch and customers would be happy to use a site without any flaws.
Once the site goes live you want everything right as that creates your brand's impression so do not rush and hire Magento developer who just promises to help you create a site in 10 days without any prior experience to do so in a short period of time. It can affect your business reputation.
In case you want a site to be built and launched in 10 days then look for professional team of Magento developers who have an experienced team and have developed Ecommerce sites before in such a short deadlines.
Your eCommerce site is what gains you profits and you can't compromise on its quality so make sure your project is in safe hands. You are going to invest money on Magento project and you want an impressive and fully functional eCommerce site so that your customers can gain smooth shopping experience without any technical issues. Magento has all the functionalities required for an eCommerce store.