Top 5 eCommerce Platforms to Launch an eCommerce Store Without Fail
Making a website to sell something has become easier.
70% work is completed simply by buying a readymade website theme that is built on top of any of the best ecommerce platforms.  
In this era of technological innovations, starting an ecommerce venture has become affordable at both retail and individual level, which was not the case in the 1990s or 2010s.
The frustration of Too Many Uncertain Business Parameters
However, launching an ecommerce store cannot be considered business success.
Just before you start, think over how would you manage/make in this cutthroat competition?
With
Reasonable price?

Extraordinary marketing efforts?

In-house cost deduction?

State-of-the-art automated ecommerce setup?
still..many other things.
Well, I don't deny the importance of any of above factors.
While exercising over other factors is possible before or after the website is published, software genre certainly cannot be changed. That has to be pre-determined in the very first.
So, in this article, I am presenting pros and cons of top 5 ecommerce platforms. Your choice can be anything depending on features requirement and budget allocation.
From my part, I assure a fair representation of the most popular ecommerce platforms that is void of one-sidedness.
Speaking Strongly On Wrong Recommendations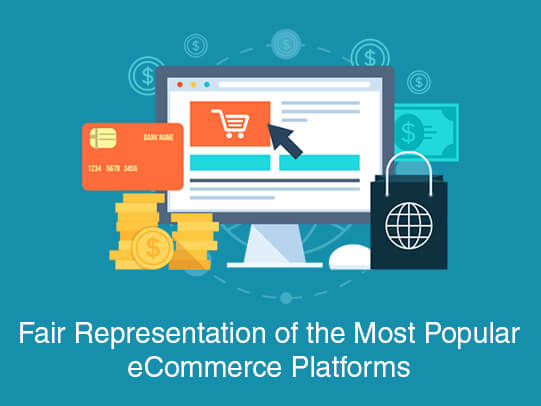 It is understandable that merchants but cannot recommend products of cross-vendors to cut down own survival.
Yet, there exists a lot of ecommerce SEO services agencies, bloggers who publish text and favor for specific ecommerce product to hike sales of a partner.
Therefore I have re-worked on an article that is already published tens of times to offer a neutral walkway.
Ecommerce platforms comparison makes sense, I believe 1000s of individuals and business will benefit from this study.
Selecting an Ecommerce solution without Popularity Measure means Business Speculation
Yes.
Ecommerce website development is complicated because although an individual may have lucrative ideas, turning them into the real world, beautiful experiences in machine/digital format require specific coding expertise
For example, a Java developer may not be replaced with WordPress consultant and vice-versa.
Those who build internet presence with a widely used genre of ecommerce get a competitive advantage due to the availability of programmers and easy on pocket labor charges.
Drilling even down, if you are in need of ecommerce solutions for small business, as is the general scenario, you have to actively involved in the understanding architecture of particular framework, and ask questions like
In

what programming language

an ecommerce framework is

written

?

What are

hourly rates

for that

type of programmer

?

How much scalable is it, for 1 office, 5 offices or can it manage 15+ centers worldwide?

Monthly pay

or only customization fees?

Plugins vantage

is available for this ecommerce solution?

By

default

features
etc.
Although you don't have to be a coder,  looking into itemization(break-up of components) is recommended to get a tighter grip on your initiative.
Here, I am comparing top 5 ecommerce solutions.
Magento
Shopify
BigCommerce
nopCommerce
Woocommerce
Platform

PHP

Ruby / Vendor Proprietary Framework

PHP  / Vendor Proprietary Framework

C# / ASP.Net

PHP / WordPress

Multi-Store

Yes

No

No

Yes

Partly / via

Plugin

WYSIWYG Editor

Yes

No

Yes

Yes

Yes

Shipment Booking & Tracking

Via Add-on

Via Add-on

Yes

Via Add-on

Via Add-on

Alternative Check-Out Support

Yes

No

No

Yes

No

Payment Gateways Flexibility

9 out of 10

10 out of 10

9 out of 10

9 out of 10

9 out of 10

First Release

13th August, 2007

2006

Don't know

23rd October, 2008

2011

MySQL/MariaDB Database Support

Yes

Yes

Yes

No

Yes

SEO features

9 out of 10

10 out of 10

9 out of 10

9 out of 10

10 out of 10
Above table is not a comprehensive tour of features that can allow decision making.
There are much more factors to cover that altogether make an e-commerce solution customer friendly, such as
Printing friendly

Glossary/Tooltip (small text chunk appearing on Mouse Hover in a website)

Customer Quotes

eBay Order Import & Integration

Open or Closed Source Codebase
etc.
Remarkable Pros & Cons of Magento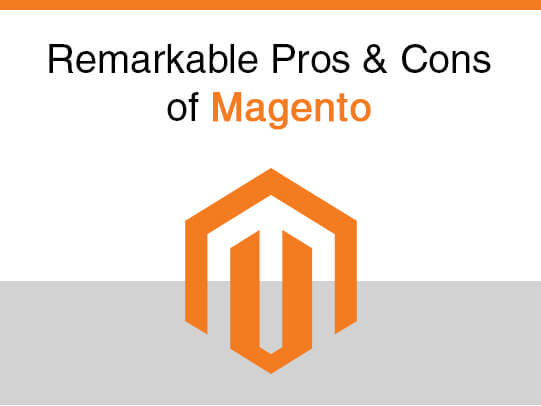 Good Parts
Community version Is free and has almost 70% of total features

Greater than 9,000 plugins published until date, quite less possibility that some feature can't be brought by an installation of a plugin

Open Source

No Monthly Subscription Fees

Scalable
Bad Parts
The price tag to unlock advanced features is high, a business owner has to spend as much as USD $20,000 for Magento Enterprise Edition

Complicated to setup and customize, expert programmers have to be hired to manage Magento, a business owner can't just tailor Magento store with DIY
Remarkable Pros & Cons of Shopify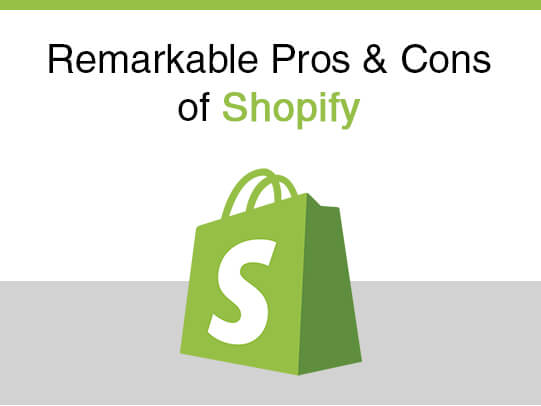 Good Parts
Start selling on Facebook by integrating Shopify website just for $9

Comes pre-built with mobile-friendly features, includes a mobile app for an added amount

Streamlined Checkout process, lower shopping cart abandonment rate

A plethora of 3rd party apps, plugins, you may not need to create anything from scratch

Well established Shopify Community to solve problems, commercial support available 24×7 from the company
Bad Parts
All transactions are met with slightly added fee reserved for Shopify, even on top of monthly subscription charges

It is difficult to tailor or customize Shopify website should add-ons don't nurture the desired feature. You have to hire the very specific type of developer having hands-on "liquid" programming language

Extensions aren't economic rate, Shopify marketplace is almost void of free plugins
Remarkable Pros & Cons of BigCommerce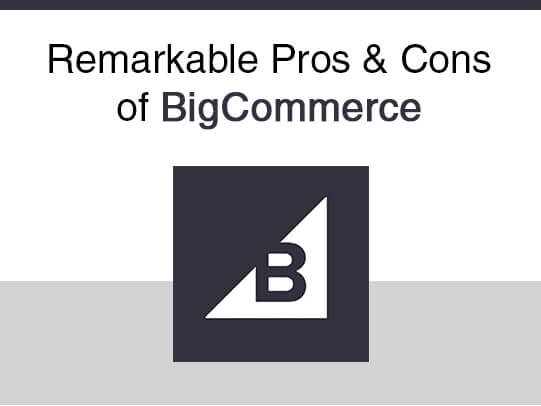 Good Parts
Most BigCommerce themes, whether free or paid to deliver consistent user experiences across devices and screen sizes, i.e. responsive

Multitude of enterprise features are available with lesser than premium pricing plans, like tax, analytics, gift coupons and more

Quick ecommerce store integration with eBay, Google Shopping & Facebook

Easy, wizard-based setup, also, articulate videos, demos served by first source company
Bad Parts
Limited free stuff and themes to give your store a unique identity

Doesn't support integration with Amazon right now, multi-vendor online store isn't possible on BigCommerce website
Remarkable Pros & Cons of nopCommerce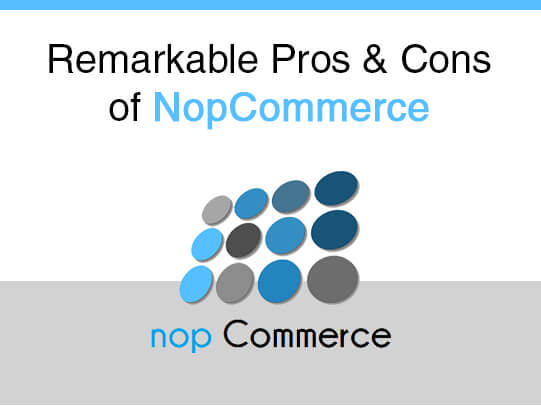 Good Parts
It is a polished, domain driven, MVC ecommerce framework. Its architecture is just the best, no loopholes.

It is easy to implement database design and application design to build an ecommerce website by using nopCommerce components. Alike open source development, all the tools, IDEs etc. are predetermined, standard, so less uncertainty and use of 3rd party

Ridiculously cost-effective, all features unlocked, nothing like community or enterprise edition, USD $100 for monthly support

More than

30,950 websites

using it, quick start within 1 week
Bad Parts
Although nopCommerce is free, its ingredients aren't, i.e. ASP.net and SQL server is Microsoft owned proprietary software. Therefore it is likely to have free stuff like themes etc.
A learning curve is steep, you may consider it a bit deviated from the main route i.e. generic PHP developers, so sourcing of technical experts is not effortless unless you are willing to hire online and remote basis
It is still growing, an adaptation of nopCommerce is lower in industries
Remarkable Pros & Cons of WooCommerce
Good Parts
Number 1 Ecommerce amongst free products, 30% of all ecommerce websites use WooCommerce

The most common or "default" ecommerce genre to choose

Thousands of customizers worldwide, cheap labor rate

Very easy user interfaces, just anyone can DIY(Do It Yourself)

Unlimited Plugins, including free and premium

Industrywise readymade themes

available
Bad Parts
It is not very scalable

It lacks enterprise features like Business Analytics

Slow on its own rather on part of coding, Google is currently(2018) revamping its structure that will increase the speed of 1000s of sites after upgrading to newer to version.
So far, I have completed top 5 ecommerce platform comparison as per promise of the article.
However, I know you have questions for why not few other popular names? The candidate's list comprises of
Prestashop

Volusion

Open Cart

OS Commerce

Zen Cart

Drupal Commerce

Joomla! / Virtue Mart
I bet that if you ask any standard market research analyst or agency, it would give the same top 5 names that we compared in this text.
Above 7 ecommerce frameworks are heard names, powering 100s of sites at the moment, unfortunately not in top 5 for which I am sure.