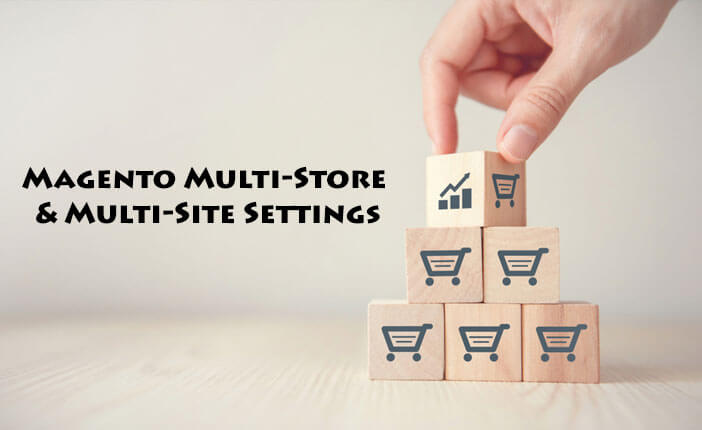 When should I choose Magento Multi-Store & Multi-Site Settings?
You may find it a little challenging to run a single online store. On the other hand, if you are planning to develop and run multiple e-commerce stores that are multilingual, then you need to spare a lot of time in setting up different shipping options, currencies, etc. It also needs a considerable amount of money.
Well, this is now sorted out with a powerful Magento platform that offers a complete solution that lets you access multiple features for managing multiple Magento multiple websites to help your business live up to the requirements of a sophisticated e-commerce world.
Magento lets you get complete control over everything using an individual admin panel
Why choose Magento multi-store?
Generally, Magento 2 multistore function is specifically made for merchants who wish to sell in distinct countries or having multiple brands to handle.
So, if you are one of those merchants who want to expand their business in different countries or possess different brands then Magento multi-store function is for you.
Well, you don't need to install multiple websites as Magento lets you build, configure different website stores/store views needed for your firm/brands with a single platform installation.
What does the Magento Multi-site offer?
Magento is based on the Global website store (GWS). It helps handle Magento multiple stores/websites using a single platform.
Levels explained below
Global
It means a complete Magento installation
Magento multisite for website
This is the domain that utilized for your site. Remember, every domain can run multiple Magento stores, but one can choose to have different domains on just a single installation.
Magento multi-stores for stores
Here the main product catalogs are built on one domain which can be termed as – Magento multi-website domain store (single).
Magento store views
Talking about these views refers to different presentations related to front end views represent the multiple presentations of the data at the front-end which gives your online business multiple storefronts. Now, this particular function is considered when you require multilingual stores.
Magento multi-site
Selecting any Magento website gives you an extraordinary feature for
– Individual customer based functions
– Customer management process
Well, Magento multisite feature lets you handle Magento multiple stores that directly helps you to choose any payment method for shipping & works well for all main currencies across the world.
Magento Multi-store
The feature lets you operate on a distinct website easily plus it has all normal components available.
For example, if you own a fashion store wherein you sell a variety of clothing products, certainly, you will need two individual stores for both men & women.
Well, maintaining different websites is just not sufficient as you also need to continue working on components related to the front end and display the items utilized in stores.
Hence, the main benefit in such cases is, you are allowed to sell different categories associated with multiple goods just using an on the web domain. This will make your store feel like a genuine shop with plenty of products offered just via one domain easily.
Magento Store View
By default, every Magento store comes with 1 store view. The view can be utilized to save content with related details related to certain services/products.
This feature is quite useful to display store in distinct languages. Hence, you can concentrate on modifying the content and different elements related to the design different from feature via store view.
Lastly, you don't need to include individual shipping methods as you can just include a method by including the particular formatted category.
What are the advantages related to Magento Multi-store
When it comes to Magento multi-store function is helping manage your online business easily.
– Creating and managing multiple stores with 1 main dashboard
– Set up multilingual websites to target international markets
– Countless products
– Mini-sites for particular brands
– Embedded Magento SEO marketing and management
– Different URLs and branding
– Build sales and customize the layout to target special days and holidays in different regions across the world
Why you need to use Magento multi-store
– No worries about managing websites anymore. Only one central panel lets you alter themes and limit extensions. Certainly, every store has a unique identity.
– Customers can discover and navigate through your websites easily. Above all, you can build a transparent, clean and organized website that directly will contribute to the excellent customer experience
– Comes with easy scaling. For example, adding fresh categories and catalogs becomes super easy
– In short, you will not face any issues to manage your customer accounts, shipping methods, and payment methods in different countries.
What should you examine before you install Magento multi-store?
Well, building multiple stores using Magento is easy. All you need to do is look into instructions and then build multiple stores as per your needs.
Also, you will not encounter any code or technical bugs. But, certain e-commerce Magento multi-store SEO related issues are also reported to certain online merchants.
Issues related to extensions in Multi-store
Well, you can get different plug-ins for multiple stores using Magento multi-store. It means the extension will be enabled for 1 store and but will be inactivated for the 2nd store.
Well, everything means in a single chunk until the user attempts to update the Magento software. Well, this issue occurs if you do not utilize a multi-store function.
Well, the multi-store function will give an added level of a twist.
Setup requirements
Well, you need to check a couple of things before you establish the multi-store function and they are
– Purchase an SSL certificate – multi-domain and ensure a fresh domain also possesses an SSL certificate.
1.Make sure you own a multisite hosting to reduce your worries about server problems.
2.Take the back up by logging into Magento.
3.Also, configure Magento multistore via the admin panel.
4.Note to reflect your fresh domain name to respective server you own.
5.Once you are done with earlier steps, you can start adding certain products to see if they live up to your requirements.
Advantage of the potential of the multi-store.
Undoubtedly, Magento multi-store function is a need of the hour for most e-commerce merchants.