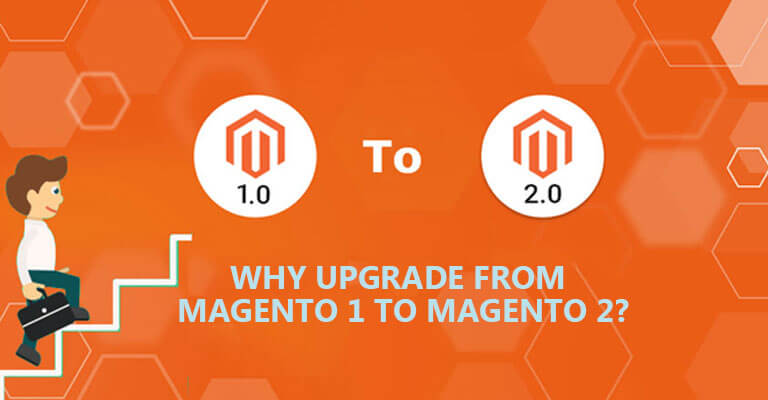 Why you Need a Latest Magento Version for your eCommerce Store?
In case your eCommerce website is still using older Magento version then you may encounter problems with extensions and new themes certainly need you to have latest Magento version.
In short you need a Magento upgrade service for your eCommerce site. For the upgrade you need services that thoroughly understand the sensitivity of Magento upgrade and offer professional upgrade service for Magento. A professional upgrade service would offer you improved checkout, shopping cart, speed as well as performance.
If you want to get all of the above aspects then Magento 2 is the most reliable eCommerce platform including its previous version. Magento 2 is pretty simple to use giving the right platform to attract huge traffic to your site. The professional will offer Magento 1 to 2 upgrade service flawlessly. You will also get the theme transferred to latest version. The service filters database and updates all the extensions that helps your eCommerce run seamlessly and also integrate security patches required in the market to assist your Ecommerce store theme and then carry out in-depth quality assurance testing before your ECommerce site goes live.
If you are still using the older version of Magento there are risks associated with the older version like your business data can be lost within no time. Your database with customer data will vanish.
The process may be complicated but there are a lot of benefits which answers your question as why you should opt for Magneto 1 to Magento 2 migration.
Enhanced and strong security
Better security with integration of 35 added improvements to the product security.
Improved usability
Improved scalability
Supports current USPS shipping changes
Improved ACL control making cache management flexible, faster and effective.
Copyright update 
Steps involved in Magento 1 to Magento 2 Migration Process
Migration of SEO & Indexed pages
It is an important aspect that is considered during the migration process. The Magento 2 upgrade service recreates the essential Magento 2 features.
Migration of your store database – orders, customers, products, CMS content and store configuration
Migration of your store database includes data related to your orders, inventory, customers and it is taken care of on a high priority basis.
At this stage migration of store configuration, orders, customers, CMS content, SEO eCommerce setup, products, is taken care of.
All your data from Magento 1 is transferred securely to Magento 2 during the installation without any data loss. When your site is all set to go live the final data transfer is carried out so that everything remains intact when the site goes live with Magento 2.
Store Design Migration
Well, it is not possible to migrate the front end design from your older Magneto 1 version to 2 but it is possible to re-build it on new version- Magento 2 or you can plan to buy a new theme.
Transfer Custom Built Features & 3rd Party Extensions
It is not possible to make use of extension of Magento 1 on Magento 2. Well, migration is the right time to eliminate the clutter and delete the extensions you do not use and keep the ones you needs on your store. If you want to use a certain extension on your Magento 2 platform, get in touch with your extension company and buy the latest version of the extension compatible with Magento 2.
When it comes to custom-built features you can rebuild on Magento 2 and a professional upgrade service can help you doing it.
What you get from Magento 2 Migration Services?
Magento 2 is a completely new platform though the migration process is bit complicated. It needs an ample of time and resources to carry out the upgrade. Thus you need a professional and experienced team to do the migration.
Updates to Magento main database with customers, order, products etc.
The errors are resolved during the migration process itself.
Store theme is updated and minor errors are fixed during the process.
Upgrade/install any of the extensions
Upgrade 3rdparty extensions related to your store.
When you upgrade your store from Magento 1 to 2 it brings in new features, security enhances, improved functionality, error fixes that lets you give your store customers a wonderful shopping experience. Of course if you upgrade your Magento store on a regular basis it gives you a more stable platform and error free experience to enhance the store performance.
Of course the upgrading Magento to a newer version is not an easy task to perform and it is important to make sure that there is no data loss and the downtime should be zero. The experienced team of developers can offer a smooth Magento 2 upgrade service at an affordable price.
Quality testing is the most important part of Magento upgrade that lets developers to trace errors if any so that they are no hassles after the upgrade. At this stage a Magento 1 to 2 upgrade service will closely investigate the errors and fix them as quickly as possible. The upgrade is monitored under the supervision of expert programmers so that there are no issues left unresolved before your site goes live.
After a Successful Migration of your Store You Can Enjoy
Faster loading of your site
Higher conversion rates
Experience secure payment gateways
Seamless checkout process
Reduced shopping cart abandonment rate
If you want to enhance the performance of your eCommerce store the migration would help you do so. You will be directly helping your customer enjoy smooth shopping. You can notice increase in revenues generated for your store. As the migration process is not an easy task to perform, make sure you hand it over to the Certified Developers.
Only Magento Professionals can help you perform a successful migration. Certainly, you wouldn't want to lose your customer database and other important business data during the migration. In order to get the store data base intact after the upgrade approach a professional Magento Developers.